Arrival to America
Phillis Wheatley was born in West Africa in modern day Senegal or Gambia, her date of birth is not exactly known but it is believed that she was born around 1753. She was captured by a slave trader when she was seven or eight years old and transported across the Atlantic to America through the route known as the Middle Passage, part of the transatlantic slave trade. The traveling conditions were inhumane as slave traders tried to maximize their profits by fitting as many people as possible, mortality rate was about 12%.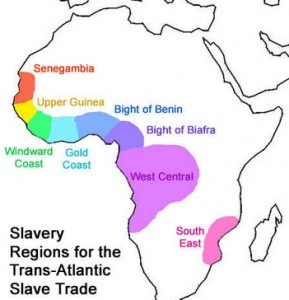 Phillis' voyage to America took seven weeks, she somehow survived and arrived in Boston on July 11, 1761 in the slave ship the Phillis. At her tender years the voyage and the weather conditions weakened her, she must have stood out as a little helpless child in that slave market where there was little chance for her to be purchased. Fortunately for Phillis, she caught the attention of Susanna Wheatley, the wife of John Wheatley, a wealthy merchant. The family was in need of a young female servant to help Susanna and her daughter Mary. Something in Phillis must have won their hearts as her delicate and weak looks only meant increasing the burden of the household. Susanna Wheatley chose Phillis over other healthier and stronger slaves.

Slaves were sold in markets to the highest bidder. Slavery was abolished in the U.S. in 1863 by

President Abraham Lincoln

.
The Wheatley Family
Her new home was in a fashionable Boston neighborhood in what was King Street and Mackerel Lane, currently State Street and Kilby Street. The Wheatleys were a wealthy family. John Wheatley had several business ventures, he was a prominent merchant with a store on King Street and real estate investor, he was also a town official but his primary occupation was that of a very successful tailor. Among his customers were aristocrats John Hancock and James Otis Jr.
Phillis was baptized and named after the ship that brought her to America, Phillis, and as it was the convention of the time she was given her owner's last name. Phillis did not speak English, she communicated in gestures and signs, but very soon she was able to understand and express herself in English. According to John Wheatley's letter in the preface of her book, Phillis was reading the most difficult passages of the Bible eighteen months after her arrival in Boston.
Phillis had difficulty adjusting to the weather in New England, she developed asthma and other ailments that weakened her. Her duty in the Wheatley's household was light house work, she served her mistress mostly as a companion.